Creating value the new fashioned way
We liked this very much, from oneof our associates - we haved to reproduce it - - -
(The views and opinions expressed in this blog are strictly those of the author.)
I took a "Class 4/5" white-water-rafting trip recently. I loved the adventure and thrill, and while I was holding on for dear life, I realized that the last few years in our business have been a "Class 5" ride. And, I'm not certain I enjoyed those "adventures" and "thrills" at all.
I am certain, however, that — like it or not — we will be rafting through Class 4/5 levels for the foreseeable future. This new blog is a triptych, or road map, for navigating our Class 5 world. I will share some of my "adventures" and "a-ha" moments that have helped my colleagues and me ride the rapids and have fun doing it.
My biggest "a-ha" realizations have been:
Improving bottom-line NOI must be our top mission. Everything else —RevPAR, guest satisfaction, associate satisfaction — is secondary.
The Internet revolutionized our world — and is the fastest path to improving NOI.
Consider this: In the mid-90s, everyone had a fax machine. Today, less than 15 years later, the fax has virtually disappeared from office shelves.
A decade ago, some 360 million people used the Internet. Today the Internet has some 2.1 billion users.
Today most hotel reservations are made through the Internet, an option that was barely available 15 years ago.
My "a-ha": I must either embrace the Internet, or end up on the same shelf as my outmoded fax machine.
Now, I'm far from being a computer geek. I'm much more of an NOI geek. I realized, though, that I didn't need to be a technology whiz to use the Internet's potential. I saw that most hotel managers and leaders I knew took small "toes in the water" steps on the Internet that didn't move the NOI needle. Then, in frustration, they threw up their hands and went back to what they had been doing for years. That meant that even a modest effort could put me miles ahead of the competition. That motivated me to launch my first Internet "adventure."
Swallowing my pride, I reached out to leaders of Internet-savvy retailers, who were way ahead of the curve compared to the hotel industry. That led to more conversations with specialized Internet companies both in and out of the hospitality industry. All these conversations led to a few pilot tests — some of which failed, a few of which partially succeeded and one VERY BIG WIN.
At one major property, using Internet marketing almost exclusively, we achieved year-over-year RevPAR improvement of 27% and NOI increases of 34% in the last six months of 2011. Not bad in this economy.
My "a-ha": With this search-and-discovery, test-and-re-test approach, we can use the Internet to build a better mousetrap. Sometimes we get the mouse, sometimes the mouse gets the cheese, but our NOI keeps heading due north at a better-than-market rate. And, we keep learning, keep improving, keep creating more NOI and keep having more and more fun doing it!
I welcome your feedback, suggestions and ideas on creating more value for your hotel the new-fashioned way. Together, we'll find new solutions to old — and new — problems and have fun doing it.
ARE YOU ON GOOGLE+ ?
Join us on Innfinite´s Google+ page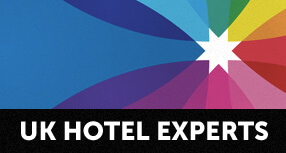 Hotel Deals
Great deals in just a click


Hoteldeals.co.uk, your one-stop-shop for the best UK short hotel breaks, spa breaks, budget UK hotel deals, UK hotel city breaks and special offers at a collection of UK Express hotels, UK Holiday Inn hotels and a collection of unique hotels across Scotland, England & Northern Ireland. MORE»

We are a portfolio of five Hotels, based exclusively in Scotland, proudly offering a rare blend of quality, service and price in a range of City and Country House locations across the country – in Edinburgh, Glasgow, Aberdeen and Perth..MORE»
Featured independent hotels of quality in Scotland
Balbirnie

Balbirnie House is a quite unique multi-award winning country house hotel which combines understated luxury with superb service and outstanding value.

Peat Inn

Winner of the AA Restaurant of the Year awards for 2010-11 at the recent AA Hospitality Awards, amongst the most prestigious national awards of their kind.

Knockinaam

A small luxury country house hotel in Dumfries and Galloway with a glittering array of awards – 3 AA red stars, 3 AA food rosettes – and 1 Michelin star.

Maryculter

A classic 4 star country house hotel, 6 miles outside Aberdeen on the bank of the river Dee and a short drive from Aberdeen International Airport.

Piersland

A stunning, beautifully restored, W illiam Leiper inspired 4 star 'country house hotel by the sea', in glorious gardens, grounds and sun facing terrace, in Troon.