The newest, and best online resource for all things hotels and hospitality businesses in Scotland
In our news and views page, you'll note some links to our favourite authoritative sources and contributing partners. If you haven't visited this page yet – VISIT IT NOW
Want to become a contributor to the news and views page? – contact robert@innfinite.co.uk to find out how
Here are some more hospitality news sites which we think you'll find worthwhile reading:-
Hospitality and Hotel Industry News - Hotel News Resource - http://www.hotelnewsresource.com/
Airline and Aviation industry news – Airline News Resource - http://www.airlinenewsresource.com/
Hotel Real Estate news – Hotel Realty Resource - http://www.hotelrealtyresource.com/
Hotel technology news & trends- Hotel Technology Resource - http://www.hoteltechresource.com/
Online Travel industry News -Eye for Travel – www.eyefortravel.com
Daily Hotel Industry news - Hotel News Now – www.hotelnewsnow.com/
nline hospitality internet marketing - Vizergy – www.vizergy.com
Hotel Marketing Blog – Josiah Mackenzie - http://www.hotelmarketingstrategies.com/
You can sign up to them all to receive daily and regular news, views and reports
Here are some links to partners and companies we work with and which our parent company Innfinite recommend as preferred suppliers, we believe in partnering with only the very best proven resources - - - - - -
Navarino Services – www.navarinoservices.com – Innfinite's ecommerce partner provides complete online reservation management systems for independent hotels and small chains all over the world, with a world class UK based 24/7 support service to match.
Lateral Line – www.lateralline.com – superlative Glasgow based creative design house, Innfinite clients work regfularly with them, particularly on creatives for effective email marketing campaigns
VFM Leonardo – www.vfmleonardo.com – a global leader in video production, marketing , merchandising and distribution for hotels and travel cpompannies
Chardon Management – www.chardonmanagement.com and www.hotelmanagementservices.com - leading providers of complete hotel real estate and hotel management contracts and service es to branded and independent hotels in the UK for owners, investors and banks
Edinburgh Hotels Association – www.stayinediinburgh.net - a professionnal association of the best hotels in Edinburgh, and an online booking portal for Edinburgh hotel reservations direct with the member hotels
Scotserve - http://www.scotserve.co.uk/ - superb personally run 24/7 domain hosting and management company based in Scotland
Control Alt Delete – www.controlaltdelete.com – Glasgow based specialists in providing outsourced Information and Communications Resources to the Hotel and Leisure Industry and SME's ranging from a few to many hundreds of desktops
Sabre Hospitality Systems - www.sabrehospitality.com - providers and developers of the world class Guest Connect CRS suite of on line ecommerce services, online marketing and distribution solutions for hotels,Distributed and supported by our partner on line services company Navarino Services.
Ecom Buffet - http://www.helpingfoot.com/ - Expert SEO Services For Web Sites and Blogs, Social Media Services (Social Networking) and more, and expert advice e on effective email marketing campaigns
Daniel Craig- www.danieledwardcraig.com– industry leading Online Reputation Management Guide for Tourism Operators and hotels.
ReviewPro - www.reviewpro.com - the leading customer intelligence tool for hotels to profit from the social web and manage their online reputation
ARE YOU ON GOOGLE+ ?
Join us on Innfinite´s Google+ page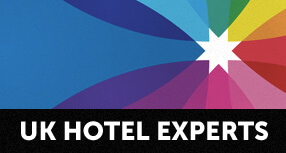 Hotel Deals
Great deals in just a click


Hoteldeals.co.uk, your one-stop-shop for the best UK short hotel breaks, spa breaks, budget UK hotel deals, UK hotel city breaks and special offers at a collection of UK Express hotels, UK Holiday Inn hotels and a collection of unique hotels across Scotland, England & Northern Ireland. MORE»

We are a portfolio of five Hotels, based exclusively in Scotland, proudly offering a rare blend of quality, service and price in a range of City and Country House locations across the country – in Edinburgh, Glasgow, Aberdeen and Perth..MORE»
Featured independent hotels of quality in Scotland
Balbirnie

Balbirnie House is a quite unique multi-award winning country house hotel which combines understated luxury with superb service and outstanding value.

Peat Inn

Winner of the AA Restaurant of the Year awards for 2010-11 at the recent AA Hospitality Awards, amongst the most prestigious national awards of their kind.

Knockinaam

A small luxury country house hotel in Dumfries and Galloway with a glittering array of awards – 3 AA red stars, 3 AA food rosettes – and 1 Michelin star.

Maryculter

A classic 4 star country house hotel, 6 miles outside Aberdeen on the bank of the river Dee and a short drive from Aberdeen International Airport.

Piersland

A stunning, beautifully restored, W illiam Leiper inspired 4 star 'country house hotel by the sea', in glorious gardens, grounds and sun facing terrace, in Troon.