Enjoy our Scottish hotel and hospitality blogs
Always very active in the Scottish hotel industry, Hotel Review Scotland presents four Scottish hotel blogs for your enjoyment, and comment, covering four very key topics. All our blogs are managed by our parent company, InnfiniteHospitality – do visit www.innfinite.co.uk to find out all about innfinite's on line development and marketing services to hotels in Scotland and the UK.(and now in Argentina)
Our Scottish and UK hotel blog – visit www.ukhotelexperts.co.uk – this blog is actually the blog of our parent company Innfinite Hospitality and features Innfinite's news and views about the very latest ,matters affecting the Scottish and UK hotel industry currently
Our Edinburgh hotels blog –visit www.edinburghhotelexperts.com – this is the Edinburgh hotel blog we introduced for, and manage for, Edinburgh hotelsw Association (www.stayinedinburgh.net). Innfi nite is the marketng consultant to Edinburgh Hotels Association. This blog will feature all the latest news and views about Edinburgh Hotels and wll include contributions frorm the members of the Association.
Our Edinburgh Travel Guide blog – www.edinburghtravelguide.co.uk - again prepared and managed for Edinburgh Hotels Association, this blog is about all things Edinburgh travel, and contains news and views relevant to those visiting Edinburgh – latest Edinburgh travel news, travel advice, what's on in Edinburgh, where to stay in Edinburgh and the top recommended things to do and see in Edinburgh.
Our blog for the meetings and events industry – www.meetingsthatcount.com . Our parent company Innfinite is spearheading a major new on line, one stop meetings and events facilitation and venue selection project which will revolutionise the way we maximise the value of meetings, conferences and events in Scotland and the UK. This project is due to roll out in December 2011. Get our latest take on the Scottish meetings and events industry, and the rightful place of hotels and venues in this market – follow the Meetings that Count blog- and feel free to comment.
We also invite you to visit and test our new on line personal travel agent service from Hamish, our on line persona who also features as the online travel agent for Edinburgh Hotels Association. Visit www.askhamish.co.uk to find out more. Please note that this site is still under development.
ARE YOU ON GOOGLE+ ?
Join us on Innfinite´s Google+ page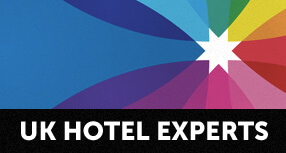 Hotel Deals
Great deals in just a click


Hoteldeals.co.uk, your one-stop-shop for the best UK short hotel breaks, spa breaks, budget UK hotel deals, UK hotel city breaks and special offers at a collection of UK Express hotels, UK Holiday Inn hotels and a collection of unique hotels across Scotland, England & Northern Ireland. MORE»

We are a portfolio of five Hotels, based exclusively in Scotland, proudly offering a rare blend of quality, service and price in a range of City and Country House locations across the country – in Edinburgh, Glasgow, Aberdeen and Perth..MORE»
Featured independent hotels of quality in Scotland
Balbirnie

Balbirnie House is a quite unique multi-award winning country house hotel which combines understated luxury with superb service and outstanding value.

Peat Inn

Winner of the AA Restaurant of the Year awards for 2010-11 at the recent AA Hospitality Awards, amongst the most prestigious national awards of their kind.

Knockinaam

A small luxury country house hotel in Dumfries and Galloway with a glittering array of awards – 3 AA red stars, 3 AA food rosettes – and 1 Michelin star.

Maryculter

A classic 4 star country house hotel, 6 miles outside Aberdeen on the bank of the river Dee and a short drive from Aberdeen International Airport.

Piersland

A stunning, beautifully restored, W illiam Leiper inspired 4 star 'country house hotel by the sea', in glorious gardens, grounds and sun facing terrace, in Troon.