Email vs. Social Media ? Which One Deserves Your Marketing Dollar?
Ever hear the one about the hotelier who had too much money to spend on marketing? Neither have I.
Financial constraints on marketing budgets are all too common in the hospitality industry. As a result hoteliers are constantly evaluating and balancing budgets in an effort to generate the greatest proven return on investment while at the same time trying to stay current with the ever-changing media landscape.
When allocating budgets to email vs. social media one of the greatest obstacles is the proven effectiveness of email compared to relatively scant performance for social media. At the same time social media is designed to be an engagement vehicle, not necessarily a sales tool. So where's the balance?
In this, first of two articles we will delve into the research to answer the question – "Email vs. Social Media, Which One Deserves Your Marketing Dollar?"
Last year Host Papa looked at six different pieces of research and then published an interesting infographic pitting email vs. social media to answer this specific question. You can view it here.
Presented as an epic showdown between the two most widely used digital marketing platforms, the infographic portrays an epic heavy weight championship boxing match. The two media battle it out over five rounds with the overall winner decided based upon one criteria – performance. Here's how the bout played out:
ROUND 1 – Benefits. Email is the favored media for most individuals and businesses but savvy businesses are embracing the power of social media to boost visibility, page rankings and customer engagement. Round 1 ended in a draw.

ROUND 2 – Growth. While email has been the favorite marketing tool for more than a decade, social media is catching up fast. Based simply on growth rates the new kid on the block wins. Round 2 goes to social media.

ROUND 3 – Usage. While there is a lot of hype around social media when it comes to usage, email wins hands down. Email is the most popular online activity at 94% compared to 61% for social media. Email wins round 3.

ROUND 4 – Reach. When it comes to commercial use (what hoteliers use email for) email wins across every age group. A total of 75% of adults say email is their preferred marketing tool. So when it comes to reaching customers email is the clear winner.

ROUND 5 – Features. In looking at eight features marketers need to run an effective campaign (i.e., list management, segmentation, deliverability and analytics) email wins 6 to 2 over social media.
In the end, based on proven results and effectiveness email was proclaimed the winner. My next article will discuss detailed research on media performance in an industry that's even more intensely competitive than hospitality.
My advice to hoteliers? When developing marketing plans, hoteliers can't look at email and social media as an either/or issue. It's both. The question is, how much of available resources (manpower and money) can you allocate to each? Email can be a powerful tool for driving revenue, but only when database marketing best practices are applied. Consequently when developing next year's marketing plans a good place to start is by auditing your email program to see if you are maximizing its impact on your bottom line. The more effective your email program is the more revenue you should generate and the more money you will have for other marketing programs including social media.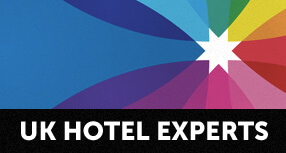 Hoteldeals.co.uk, your one-stop-shop for the best UK short hotel breaks, spa breaks, budget UK hotel deals, UK hotel city breaks and special offers at a collection of UK Express hotels, UK Holiday Inn hotels and a collection of unique hotels across Scotland, England & Northern Ireland. MORE»

We are a portfolio of five Hotels, based exclusively in Scotland, proudly offering a rare blend of quality, service and price in a range of City and Country House locations across the country – in Edinburgh, Glasgow, Aberdeen and Perth..MORE»

Edinburgh Hotels Association presents to you an outstanding quality selection of like-minded member hotels and accommodation in Edinburgh all customer focused, service driven – and more recently, proactive in Green and sustainable tourism.MORE»
Featured independent hotels of quality in Scotland