Expedia: Commissions are ?absolutely? fair
UK hotel OTA lovers, get a bit of this, below - - - - - - - -
Story Highlights
Expedia is doing "a few different things" to close the gap between the OTA and its hotel suppliers.
Expedia contends that if hoteliers look at the return on investment they will realize the value of the channel.
Dara Khosrowshahi said there are some hotel partners who "have a more difficult time" understanding Expedia's pricing philosophy.
Dara Khosrowshahi, president and CEO of Expedia, discusses the company's philosophy on pricing
LAS VEGAS—Expedia is making significant investments to better its relationships with supplier partners—including a new-found attitude check—but don't expect a narrowing of commission margins, executives said last week at Expedia's Global Partner Services convention.
Scott Durchslag, president of Expedia Worldwide, told HotelNewsNow.com the online travel giant is doing "a few different things" to close the gap between Expedia and its hotel suppliers.
"One is acting with humility, which I've been told maybe we didn't always do in the past," he said. "And I think it's understanding that dialogue is a two-way street and we have as much to learn as to teach.
"The essence of travel technology—how much of it is the travel side and how much of it is the technology side—the real alchemy is how you bring those things together," Durchslag continued. "The truth is that's not something we can do by ourselves or really they can do by themselves."
Expedia executives said last week they've heard all of the criticism about how expensive a distribution channel the company is, but they contend if hoteliers look at the return on investment, they will realize the value.
"The troops in the trenches know that. Now they have to convince their bosses a couple levels up, and that's where we can probably do a better job giving them some of the tools and the case studies to do that," Durchslag said.
Gary Fritz, co-president of Expedia Partner Services Group, contended that Expedia commissions reflect value in the company as a successful marketing channel.
"What I go back to is: If you look at us purely as a distribution channel, you're going to lead yourself to a bunch of illogical conclusions," he said. "If you just say, 'The (global distribution system) agency charges X and (American Express) charges Y and you charge Z and Z is greater than Y and that's bad.' The reality is you have to look at what we are really doing.
"I'm taking your content and putting it into 36 languages," he continued. "We compete in the online marketing side for the same distribution opportunities that my partners do, but the reality is, just given the structure of my business, which is a multi-hotel aggregator, I'm going to convert better and therefore my ability to have a more economical and better (return on investment) on my marketing dollar is just a fact of how my business is organized."
Fritz said he "absolutely" thinks the commissions Expedia charges are fair.
"At the end of the day I deliver what I think is a pretty efficient reach to the doorstep of my costumer," he said. "We're always looking at it; we're not unaware of what the competitive landscape is. But right now, you know, things feel pretty well balanced."
Price and inventory control
While some hoteliers might agree you get what you pay for with Expedia and its family of brands such as Hotels.com, Hotwire and Venere, others contend OTAs in general are taking control of the hotel industry's pricing and inventory.
Dara Khosrowshahi, president and CEO of Expedia, said the majority of Expedia's partners understand that Expedia is "the single window with the largest audience on a worldwide basis."
"It's very much in their interest to put their best foot forward on that one chance when a consumer is looking for hotels in Boston or New York, and if they don't—which means having the best inventory, the deepest inventory, the most room types and the best prices—they could lose that consumer in that magic moment when the consumer happens to book."
Khosrowshahi admitted there are some hotel partners who "have a more difficult time" understanding Expedia's pricing philosophy.
"Our philosophy on pricing is simple," he said. "One of the reasons consumers come to us is that they do expect a breadth and depth of choices and they do expect the best prices. That's what the Internet is known for. So we're just trying to balance what's good for us, what's good for the partners and what's good for the consumers, and we do think the majority of our hoteliers get it."
Durchslag said Expedia plans to reach out to its hotel partners and harness new levers that exist from technology changes that are underway at Expedia. He said hoteliers and brands cannot match the technology investments Expedia is making, so the company wants its market managers to become more consultative.
In discussions with hoteliers on how the OTA can help hotels grow their business, Expedia must give a menu of options, with data, to help back up its claims, Durchslag said.
Durchslag said commissions could be much bigger in the future of hoteliers if OTAs don't work together to combat Google's news travel tools.
"By the time Google gets to scale they could be looking at much bigger costs," he said. "If we as an industry stay divided, we're going to get conquered. If we're all bidding against each other with totally narrow focus on each of our little pieces of the chain, A) we drop the ball with the end consumer, which is a big wide opening for disruptors, and B) we're not doing ourselves justice."
ARE YOU ON GOOGLE+ ?
Join us on Innfinite´s Google+ page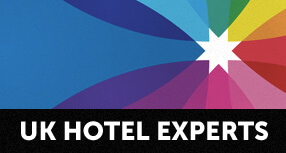 Hotel Deals
Great deals in just a click


Hoteldeals.co.uk, your one-stop-shop for the best UK short hotel breaks, spa breaks, budget UK hotel deals, UK hotel city breaks and special offers at a collection of UK Express hotels, UK Holiday Inn hotels and a collection of unique hotels across Scotland, England & Northern Ireland. MORE»

We are a portfolio of five Hotels, based exclusively in Scotland, proudly offering a rare blend of quality, service and price in a range of City and Country House locations across the country – in Edinburgh, Glasgow, Aberdeen and Perth..MORE»
Featured independent hotels of quality in Scotland
Balbirnie

Balbirnie House is a quite unique multi-award winning country house hotel which combines understated luxury with superb service and outstanding value.

Peat Inn

Winner of the AA Restaurant of the Year awards for 2010-11 at the recent AA Hospitality Awards, amongst the most prestigious national awards of their kind.

Knockinaam

A small luxury country house hotel in Dumfries and Galloway with a glittering array of awards – 3 AA red stars, 3 AA food rosettes – and 1 Michelin star.

Maryculter

A classic 4 star country house hotel, 6 miles outside Aberdeen on the bank of the river Dee and a short drive from Aberdeen International Airport.

Piersland

A stunning, beautifully restored, W illiam Leiper inspired 4 star 'country house hotel by the sea', in glorious gardens, grounds and sun facing terrace, in Troon.