Social media- the myths, the hype - exploded
I cannot confess to knowing much about the boy band One Direction except that my niece, Amy, is very keen on them. I know this because every time I call them One Dimension she corrects me with the kind of sigh that only a 10-year-old girl can emit.
Despite my ignorance, I appear to know more about Britain's hottest teen band than the world's media, which seems determined to label the band as a phenomenon bred from the cauldron of Twitter and Facebook. US magazine Advertising Age, for example, ascribes their sudden rise to a "social media campaign featuring a super fan". Australia's Herald Sun calls them the UK's "social media heroes".
And that's all rather odd because, although social media played a role in the rise of One Direction, none of it would have been possible without appearing on The X Factor and the newspaper coverage that followed it. Long before the first tweet had been sent, five young men auditioned for and then performed individually on a TV programme and were later combined into a group and performed regularly for the next eight weeks on that same TV show.
Why not call One Direction a product of an old fashioned talent show? Or the result of primetime 21st century TV coverage? It would be just as accurate an explanation for the band's meteoric rise as social media.
But of course we are not dealing with accuracy when it comes to social media. This is a world filled with exaggeration, inaccuracy and hyperbole. In 2009, when 10,000 protesters took to the streets in Moldova to protest against their country's Communist government, the subsequent events were quickly dubbed the Twitter revolution. As Stanford University scholar and digital heretic Evgeny Morozov later pointed out, this was despite the fact that Twitter had no cultural impact whatsoever in Moldova because very few Twitter accounts actually existed there.
Similarly, when students rioted in Tehran a few months later, the world's media dubbed it another social media revolution. But when writers like Golnaz Esfandiari and Malcolm Gladwell studied the events leading up to the protests both concluded that there had been no Twitter revolution of any kind in Iran.
And I see the same thing occurring across marketing. Headlines scream about the shift from traditional to social media but the data does not support it. TV ad spend was up by 8% last year in the US and Procter & Gamble not only remains America's biggest spender on TV media but is committed to continue that investment in the years ahead.
Headlines scream about the shift from traditional to social media but the data does not support it
We continue to espouse the myth of social media without adhering to the critical approach and return on investment principles that are meant to be our disciplinary watchwords. Better to ride along with the bullshit wagon that portrays social media as helping us design hot new products, conduct innovative research and craft amazing campaigns. Just don't let reality get in the way.

I worked with the marketing team of a large European private bank last month. This is a company with 7,000 clients who are all multimillionaires and positioned on exclusivity and discretion. Yet its marketers had spent four troubled weeks trying to work out how to fit their round peg into the square hole of social media.
In survey after survey of marketers, the same depressing picture usually emerges - 90% of marketers think social media has changed the way marketing should operate, 70% are spending more on social media, 60% are unable to show any ROI for their current efforts, 50% of social media campaigns are disconnected from the rest of their brand building strategy and 100% of us should be ashamed of such numbers. The myth of social media is making all of us look like morons.
It's possible to embrace the practical potential of social media without falling victim to its mythic distractions. Follow the lead of proper independent thinkers like Tracy Stokes at Forrester, who recently published a splendid overview of how social media is and isn't being used to build brands. Forrester concludes, for example, that social media performs poorly in creating a critical mass compared with broadcast media and proves relatively useless for product launching. Big clients like JetBlue, after experimenting with social media, concluded that traditional media are a better fit for much of its brand building approach. Forrester notes: "When it comes to a big launch like a new service to Dallas, the airline still turns to TV broadcast for broad impact and awareness."
Social media is often a poor choice compared with other traditional options. Be critical. Be clever. Be cynical. Not just towards social media but all the tools you are considering investing your shareholders' money in for 2013. No more separate budgets. No more mythical beliefs. Treat it in exactly the same way you would consider direct mail or a print campaign.
Get all the comments and replies at http://www.marketingweek.co.uk/opinion/social-media-myth-doesnt-measure-up/4001592.article
ARE YOU ON GOOGLE+ ?
Join us on Innfinite´s Google+ page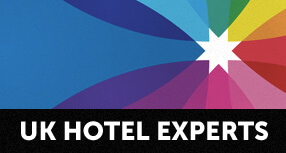 Hotel Deals
Great deals in just a click


Hoteldeals.co.uk, your one-stop-shop for the best UK short hotel breaks, spa breaks, budget UK hotel deals, UK hotel city breaks and special offers at a collection of UK Express hotels, UK Holiday Inn hotels and a collection of unique hotels across Scotland, England & Northern Ireland. MORE»

We are a portfolio of five Hotels, based exclusively in Scotland, proudly offering a rare blend of quality, service and price in a range of City and Country House locations across the country – in Edinburgh, Glasgow, Aberdeen and Perth..MORE»
Featured independent hotels of quality in Scotland
Balbirnie

Balbirnie House is a quite unique multi-award winning country house hotel which combines understated luxury with superb service and outstanding value.

Peat Inn

Winner of the AA Restaurant of the Year awards for 2010-11 at the recent AA Hospitality Awards, amongst the most prestigious national awards of their kind.

Knockinaam

A small luxury country house hotel in Dumfries and Galloway with a glittering array of awards – 3 AA red stars, 3 AA food rosettes – and 1 Michelin star.

Maryculter

A classic 4 star country house hotel, 6 miles outside Aberdeen on the bank of the river Dee and a short drive from Aberdeen International Airport.

Piersland

A stunning, beautifully restored, W illiam Leiper inspired 4 star 'country house hotel by the sea', in glorious gardens, grounds and sun facing terrace, in Troon.