Innfinite's brand new mobile web site for UK hotels now available
Innfinite's exciting and revolutionary mobile/smartphone integrated web site and room booking solution for hotels launches 4 January 2012.
Test site to view - on application
Prices - on application
Email robert@innfinite.co.uk
Overview
The growth of mobile phones and tablet devices is staggering. Mobile is becoming the most preferred way to stay abreast of what's going on for a growing majority of travellers and travel shoppers. These devices will be primary booking tools by the end of 2012.
So, the mobile channel represents the single biggest current and future on line transactional opportunity for hotels in 2012 and beyond, way ahead of social media (which currently is showing little or no directly attributable transactional ROI for hotels), and (especially when you include tablets) challenging the supremacy of desktop PC and laptop, so a real game changer in device usage. and in location based services and features which are location critical. Innfinite has conducted serious in-depth research on all strategic and operational aspects of mobile/smartphone capability and usability in the current hotel and travel technology markets, and has introduced tom the market not just a device tool but a whole mobile strategy in the shape of its new mobile/smartphone website for hotels, which meets the following key criteria:-
Simplicity – of messaging and operation – and admin
Relevance – especially to the travel shopper wanting to book rooms on the go
Uniqueness – a solution not mimicked or copied by rivals, giving a competitive advantage to the client
Scalability – can grow easily as needs and the market dictates, our first enhancements are already planned and on the drawing board, see below
Comparability – the user experience is at least as good as on the property's PC website, payment options same as on PC website booking engine &c
Budget- highly affordable for such a high spec solution, with very low support costs too
Measurable ROI – easily fully equipped with full Google Analytics capability
In the current market, we have pitched the first phase solution as a 'kick ass' hotel room booker in the palm of the travel shopper's hand, linked directly to your booking engine fully rendered for mobile/smartphone devices. All the research tells us that this is what travel shoppers currently want most of all, by far. The site is designed with the unique capabilities of the mobile/smartphone in mind. The site comes fully optimised, mobile search ready. Wider marketing functionality such as customer acquisition, loyalty building and brand awareness, and increasing customer engagement and satisfaction levels, while not specifically addressed as yet, almost come as standard with the superb efficiency of and ease of use of the tool. Furthermore it is a potent channel shift tool, as most if not all mobile bookings will be direct via your own booking engine and not via OTA's, so a booking via mobile site is an OTA commissions saved.
A Features
1 Operational
· Built purely for hotels, by hoteliers
· Simplicity of use is at the core of the product, no non-essential features – means fast download/access and great usability
· Simplicity of content means very low maintenance needs for content management
Full live contact features including 'tap to call'
· Maximum usability and clarity of the small screen space without clutter
· Hosted on a dedicated server near the main carriers, for optimum download performance
· Google automatically detects which sites provide a mobile solution and ranks them higher when a user searches from a mobile device
· Full agent detection sniffer script)to trigger mobile site, even on deep links
· Integrated mobile booking engine solution – can integrate with multiple booking interfaces
· Very simple, secure mobile booking process, requiring minimal user input
· Excellent mapping features include full directions from the phone's location using either GPS or Wi-Fi triangulation, depending on the phone to the hotel, including a detailed street view
· Full translation facility available
· Operational features consistent with the Google GOMO initiatives
· Market leading coverage and reach – 'three prong' solution allows excellent coverage and rendering on
1 Touchscreen smartphones – IPhone, Android, Blackberry Touch and Webkit based browsers
2 Smaller smartphones, such as earlier Blackberry versions
3 WAP Mobile phones such as Nokias
4 Tablets such as IPad
· Local area marketing – the build allows simple destination marketing pages for the convenience of the user, with maps and directions to and from same
· Mobile application style icon on home screen allows website to be installed as a native application, with simple 1 tap access
· No technical limitations on what can be achieved
2 Coverage of version 1 introduced 4 Jan 2012
a Touchscreen smartphones – IPhone, Android, Blackberry Touch and Webkit based browsers
b Feature phones such as older Blackberries
3 Priority enhancements
Features in the pipeline for version 2 (expected 3-6 months) include:
· SMS confirmation on booking
· Google Analytics Revenue Tracking
· Chain/Group Support.
· Alternate Availability
· Content Management System for Local Attractions and Special Offers.
4 Support and Marketing
· Backed by a proven, leading UK online internet services and marketing company specialising in hotels
· 24/7 support from dedicated UK based support team
· Fully configured for optimum mobile search and marketing performance
· Ongoing operational support, with free upgrades as required
· Optional - mobile marketing packages – (prices on application) – to include e.g. continuous mobile search and SEO, local marketing, SMS messaging and campaign support/management, Google mobile ad campaigns , cross and multi channel marketing &c &c
· Optional – design of effective web page/s to promote the service from PC websites
5 Performance and analytics
· Full Google Analytics tracking from source to conversion
· Full analytics, conversion performance, and benchmarking reports available
B Benefits
· Simplicity of solution yields far greater conversion potential than some of the cumbersome and difficult to use versions currently seen in the marketplace.
· We have developed an in house booking interface focused on simplicity to allow room booking, as this is where the crux of the desired activity in the marketplace lies.
· Travel shopper can book rooms on line in minimum number of taps with minimum input, saving time and trouble and thus increasing conversions by an order of magnitude over competing solutions.
· Allows effective low cost market leading representation and efficient conversions in the fast growing and now business critical mobile/smartphone channel, our client web stats are extensively bearing this out, particularly in city hotel and resort hotel markets
· By doing this, lowers costs of sale, and provides a solution as opposed to no solution other than PC website or TP channels to what is now averaging 15-20% of all site traffic
· Competitive and operational advantages over
1 Hotels which don't have smartphone websites
2 Hotels which don't integrate an efficient booking process into the website
3 Hotels which don't have such an efficient smartphone website and booking process – many we have seen out there are very convoluted and have way too much content
· Our model is scalable, allowing ongoing continuous development and reach as needs dictate, notably into local area marketing such as hotel restaurant promos and table reservations &c
· Channel shift from OTA's, this is potentially major, currently for many, OTA's are the only mobile booking option for most hotels
· Low abandonment rates as a result of the efficiency of the solution - lowers risk of losing booking/losing business to other, more expensive channels
· Clear metrics and key performance indicators (KPIs) to measure success.
· Partnership with a hotel on line services company which is at the forefront of m commerce and mobile marketing means continuous development and experiential analysis as the market, travel shopper and technology needs evolve - mobile services will evolve as firms are able to show success of early efforts and make the case for additional expertise and resources.
· As a customer satisfaction and retention/engagement tool, your customers are sure to be impressed with the efficiency and usability of the solution.
Mobile devices and travellers/travel shoppers are a hugely logical fit.The travel industry was quick to adopt mobile space: razor-thin product margins mean that hotels seek any opportunity they can to engage customers directly. Plus, the on-the-go and immediate nature of travel , hotel bookings and hospitality activities, along with the high level of tech comfort among many leisure and business travellers, makes the mobile channel a logical fit and an exciting opportunity for hotel bookings and a fantastic new low cost revenue streams going forward.
ARE YOU ON GOOGLE+ ?
Join us on Innfinite´s Google+ page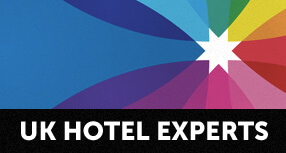 Hotel Deals
Great deals in just a click


Hoteldeals.co.uk, your one-stop-shop for the best UK short hotel breaks, spa breaks, budget UK hotel deals, UK hotel city breaks and special offers at a collection of UK Express hotels, UK Holiday Inn hotels and a collection of unique hotels across Scotland, England & Northern Ireland. MORE»

We are a portfolio of five Hotels, based exclusively in Scotland, proudly offering a rare blend of quality, service and price in a range of City and Country House locations across the country – in Edinburgh, Glasgow, Aberdeen and Perth..MORE»
Featured independent hotels of quality in Scotland
Balbirnie

Balbirnie House is a quite unique multi-award winning country house hotel which combines understated luxury with superb service and outstanding value.

Peat Inn

Winner of the AA Restaurant of the Year awards for 2010-11 at the recent AA Hospitality Awards, amongst the most prestigious national awards of their kind.

Knockinaam

A small luxury country house hotel in Dumfries and Galloway with a glittering array of awards – 3 AA red stars, 3 AA food rosettes – and 1 Michelin star.

Maryculter

A classic 4 star country house hotel, 6 miles outside Aberdeen on the bank of the river Dee and a short drive from Aberdeen International Airport.

Piersland

A stunning, beautifully restored, W illiam Leiper inspired 4 star 'country house hotel by the sea', in glorious gardens, grounds and sun facing terrace, in Troon.