The newest, and best online resource for all things hotels and hospitality businesses in Scotland
Best Practices for Responding to Online Hotel Reviews, Part 2
By Daniel Edward Craig
Daniel Edward Craig is a former general manager turned consultant specializing in online marketing, social media strategy and reputation management. Visit www.danieledwardcraig.com
It appears that hotels are finally waking up to the importance of monitoring and responding to online reviews.TripAdvisor reports a 203% increase in hotel responses to negative reviews last year. Unfortunately, this equates to a mere 4% response rate. As reviews become ubiquitous, playing an increasingly critical role in travel decisions, hoteliers can no longer afford to let complaints go unanswered. In the second installment of this two-part series, we share more tips for responding to negative online reviews.

What kind of tone should I use?
Some hotel managers write like it's the Victorian era and they're running Buckingham Palace. In social media you can be more informal and to the point, though always professional. Address the guest directly, but bear in mind you're speaking to an entire community. As difficult as it may be at times, try not to take negative feedback personally. And don't be dramatic, as in "I'm shocked and devastated by your comments"—it's a guest complaint, not a death in the family. Avoid humor and especially sarcasm, and never be defensive, petty or condescending. You might think you're concealing your true feelings, but travelers can read between the lines.

Bad response: "I sure hope all these bad reviews aren't being posted by our competitors. Just kidding."

Good response: "We take all feedback seriously, and sincerely regret that we did not meet your expectations."

What if the reviewer makes false claims?
Dispute the review with the host website, providing backup. Be forewarned, however, that this can be a slow and often futile process. In the meantime, post a reply to set the record straight diplomatically and respectfully. Never accuse a reviewer of dishonesty or exaggeration; erroneous claims are often the result of a misunderstanding, not maliciousness. If a reviewer is obviously delusional, don't feel obliged to respond; travelers will understand. Accept that occasionally you'll be the victim of unfair or false claims. Support your team and move on.

Bad response: "Your claims are at best pure fabrications and at worst a deliberate attempt to slander our good reputation."

Good response: "We can find no record of this incident, and it certainly is not in keeping with how we treat our guests. We urge you to contact us directly to discuss."

What if the claims are true but I can't fix the problem?
Be transparent. Acknowledge that it's an ongoing issue that may take time to resolve, and apologize. Complaints such as a noisy neighborhood, limited services, rooms in need of a renovation, or an inconvenient location can help set expectations for other guests and thereby reduce complaints. Use feedback to make a case to ownership for upgrading facilities and services.

Bad response: "Sorry, but we can't control noise from the street. You should have asked for a quiet room."

Good response: "We sincerely regret the disturbance. Our downtown location can mean extra street activity on weekends, as much as we try to contain it. On your next visit, we would be happy to assign one of our quieter, east-facing rooms upon request."

What if the complaint is about high prices?
Likely the issue is less about pricing than perceived value. The traveler may be unfamiliar with pricing levels in your destination or caliber of property. Resist the urge to lecture. If guests feel they did not get good value for their money, you share responsibility and should express regret.

Bad response: "Our hotel is not, as you claim, a 'RIP OFF'. If you traveled more often you'd understand that it's pricey in this city and we're by far not the most expensive."

Good response: "Our pricing is in line with similar properties in this area and we feel that we offer good value given our central location and extensive facilities. However, in your case it appears we failed to meet expectations, and for that I am truly sorry."

What if we already handled the complaint?
Given that the guest is posting a complaint, it's a safe assumption that you didn't handle it to her satisfaction. You should have the guest's contact info on file, so call her directly and try to resolve things, with the objective of having her remove the negative remark or post a follow-up comment. In the meantime, post a reply to acknowledge the complaint.

Bad response: "We already comped your meal after your alleged 'near-death experience' from mussels in our award-winning restaurant. I guess you're looking for more freebies."

Good response: "We were under the impression we had resolved this issue to your satisfaction at the time it was brought to our attention. I am sorry if this is not the case. I have left you a message, and look forward to discussing the matter in more detail."

How can I keep track of reviews?
You can subscribe to alerts from TripAdvisor, Google and Yahoo, but considering the explosive growth of online reviews, I recommend a comprehensive and manageable platform for managing your hotel's reputation likeRevinate (whom I consult for).

How do I encourage positive reviews?
I'll address this question at length in a future article, but for now I'll say never let a guest leave dissatisfied and don't be shy about asking happy guests to share feedback. If you're not using feedback to improve, it doesn't matter how good you are at responding to complaints. Above all, be remarkable. As marketing guru Seth Godin says, that means worth remarking about.

For more tips see Part I. Comments or tips of your own? Share them here.

About Revinate. The ultimate social media solution for hotels, Revinate harnesses online reviews and social media as the ultimate measures of guest satisfaction and drivers of demand. By tracking key metrics, providing real-time alerts and intuitively guiding hoteliers to action, Revinate helps hospitality companies profit from social media. For more information visit http://www.revinate.com/.

ARE YOU ON GOOGLE+ ?
Join us on Innfinite´s Google+ page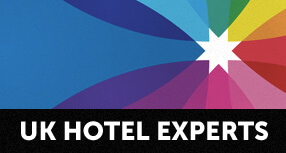 Hotel Deals
Great deals in just a click


Hoteldeals.co.uk, your one-stop-shop for the best UK short hotel breaks, spa breaks, budget UK hotel deals, UK hotel city breaks and special offers at a collection of UK Express hotels, UK Holiday Inn hotels and a collection of unique hotels across Scotland, England & Northern Ireland. MORE»

We are a portfolio of five Hotels, based exclusively in Scotland, proudly offering a rare blend of quality, service and price in a range of City and Country House locations across the country – in Edinburgh, Glasgow, Aberdeen and Perth..MORE»
Featured independent hotels of quality in Scotland
Balbirnie

Balbirnie House is a quite unique multi-award winning country house hotel which combines understated luxury with superb service and outstanding value.

Peat Inn

Winner of the AA Restaurant of the Year awards for 2010-11 at the recent AA Hospitality Awards, amongst the most prestigious national awards of their kind.

Knockinaam

A small luxury country house hotel in Dumfries and Galloway with a glittering array of awards – 3 AA red stars, 3 AA food rosettes – and 1 Michelin star.

Maryculter

A classic 4 star country house hotel, 6 miles outside Aberdeen on the bank of the river Dee and a short drive from Aberdeen International Airport.

Piersland

A stunning, beautifully restored, W illiam Leiper inspired 4 star 'country house hotel by the sea', in glorious gardens, grounds and sun facing terrace, in Troon.