Is Pinterest Just Latest 'shiny New Toy' or Will It Have Staying Power? - By Carol Verret
In February Pinterest drove more traffic to websites than Twitter, Google+, LinkedIn (LNKD), and YouTube combined. (HotelMarketing.com, 3/26/12). Couple that statistic with the fact that 93% of its users are females, and you have a powerful tool for the leisure and social market. It only took 9 months for Pinterest to go from 50,000 users to 17 million – it took Facebook 16 months. (commsource)
Pinterest formerly told its users to not use the site for self promotion and pin stuff they found on other sites. This lead to a potential copyright infringement issue as many photos are copyright protected to their photographers. Pinterest changed its user agreement to encourage 'pinners' to post their own photos and other 'stuff' thus opening the flood gates for business use. (WSJ, 3/26/12)
In an article entitled Is Pinterest the New Facebook (Jessi Hemple, Fortune Magazine, 3/22/12) differentiated the two in the following manner. "People use Facebook and Twitter to talk to each other, not necessarily to discuss things they might want to buy. In contrast, Pinterest users are more often in a shopping mindset when they are using the service. If you're keeping a pinboard called "Spring handbags I'm considering," there's a good chance you'll click through and make a purchase."
What you pin on Pinterest should support and enhance your brand. Pinterest is all about envisioning an experience and that dovetails nicely with the emphasis in hospitality on creating guest experiences rather just 'selling' them a room. It also is purely visual which eliminates the marketers' adjectives in copy that the customer has long since stopped believing. Pinterest creates a sense of place and helps visitors to the site visualize experiences they may have at the hotel – they can put themselves in the pictures.
However, like all social media, a strategy for what the property wants to accomplish with the page needs to be in place prior to engaging and not just 'pinning' everything from the web site or Facebook. Pinterest to be used well should also focus on the destination as well as the property. "When it comes to pinning, the breakdown will be approximately 70% about the city and 30% about the hotel, (Kelli) Crean (ecommerce manager for the Roosevelt Hotel) said." (HotelNewsNow, 3/28/12)
Pinterest allows multiple pages and contests. Use the multiple pages to focus on many different experiences at the property. As Pinterest is so new it is hard to use the term Best Practices but the following can be a guide to a Pinterest strategy:
Leisure Travel. As Pinterest users are 93% female and it is females who normally gather information and pick destinations for summer travel, it is the perfect medium to stimulate web site traffic this summer. Make sure that your page has interesting pictures not just pics of a bed in a room unless it is a great bedding package. Include photos of experiences in your destination and don't forget the kids -- if you have a great kids offering and/or unique kids menu, take a picture and 'pin' it!
Weddings. Brides love Pinterest according to USA today "It's changing the industry" for vendors, planners and magazines, says Anne Fulenwider, editor in chief of Brides. Since she took over the title in November, Pinterest has "exploded and really changed the conversation." A majority of her readers are pinners. (USA Today, 4/13/12) Don't just pin a picture of the ballroom set for 250. What do you remember about your wedding – wasn't it the details, the little things? Pin a picture of a beautiful place setting, a napkin fold, a centerpiece, etc. Do your pin-ing with a sense of style! Build a page where your brides can post pictures of the wedding they had at your property – this counts as a recommendation!
Meetings. Don't just pin a banquet room set for 120 theatre style. Pin a detail of a special break. Pin a photo of a special lunch prepared by chef. Pin a pic of the banquet menus for special breaks, a team building program you offer, meeting attendees taking off for a quick 5k before the meeting – the only limit is your imagination! Run a contest for meeting planners!
Restaurant and Bar. What can I say but don't take a pic of the peanuts or bar mix unless it is something really special! Pinterest loves F&B! Pin a pic of a special app or drink to promote 'happy hour'. Serve a spectacular burger? Pin it! Take a detail from one of the chandeliers or if you are a historic hotel, pin your claim to fame or a detail from the original building.
Pinterest is perfect for all types of properties but it, like Facebook, levels the playing field between the boutique, lifestyle and independent hotels and the large chains. If you don't believe me, log onto Drury Inns' page – you will find the most appetizing pic of a hot dog I have ever seen!
Real simple Remote Revenue Management can drive your REVPAR this summer but summer is coming soon! Don't wait – ask us how we do it! Click here for details http://tinyurl.com/3fuysft then call us at (303) 618-4065 or email carol@carol@carolverret.com . We'll share success stories with you!
Carol Verret Consulting & Training
(303) 618-4065
www.carolverret.com
carol@carolverret.com
www.hotelsalesblog.com
ARE YOU ON GOOGLE+ ?
Join us on Innfinite´s Google+ page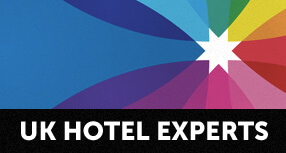 Hotel Deals
Great deals in just a click


Hoteldeals.co.uk, your one-stop-shop for the best UK short hotel breaks, spa breaks, budget UK hotel deals, UK hotel city breaks and special offers at a collection of UK Express hotels, UK Holiday Inn hotels and a collection of unique hotels across Scotland, England & Northern Ireland. MORE»

We are a portfolio of five Hotels, based exclusively in Scotland, proudly offering a rare blend of quality, service and price in a range of City and Country House locations across the country – in Edinburgh, Glasgow, Aberdeen and Perth..MORE»
Featured independent hotels of quality in Scotland
Balbirnie

Balbirnie House is a quite unique multi-award winning country house hotel which combines understated luxury with superb service and outstanding value.

Peat Inn

Winner of the AA Restaurant of the Year awards for 2010-11 at the recent AA Hospitality Awards, amongst the most prestigious national awards of their kind.

Knockinaam

A small luxury country house hotel in Dumfries and Galloway with a glittering array of awards – 3 AA red stars, 3 AA food rosettes – and 1 Michelin star.

Maryculter

A classic 4 star country house hotel, 6 miles outside Aberdeen on the bank of the river Dee and a short drive from Aberdeen International Airport.

Piersland

A stunning, beautifully restored, W illiam Leiper inspired 4 star 'country house hotel by the sea', in glorious gardens, grounds and sun facing terrace, in Troon.