Pros and Cons of Deal Sites
Oct 5th, 2011 by Madigan Pratt
You have probably read countless blogs, attended numerous conferences and listened to endless sales pitches where Deal Sites explain their business models and the benefits they offer hotels. I have too. So what's the bottom line – what's the deal?
That's exactly what I was thinking as I read a recent New York Times article which should be required reading for every hotelier thinking of using a Deal Site. The title says it all – "Coupon Sites Are a Great Deal, But Not Always For The Merchant."
While the article focuses more on the retail industry many of the observations apply to hotels. This can be boiled down into two "Pros" and three "Con's"
Pros
1. Deal Sites Do Increase Brand Awareness – Yes, putting a deeply discounted rate up on a Deal Site and blasting it out to millions of their emails subscribers is bound to increase awareness. Yes it will create awareness, but what is the real message consumers are receiving about your hotel?
2. Deal Sites Do Drive Business – Yes indeed, but it comes at a steep cost. Deal Sites return between 25¢ and 50¢ on the dollar based on the best rate a hotel offers on its own site. If your hotel's best rate on your site is 30% off rack then the Deal Site will deliver between 17¢ and 35¢ of your rack rate.
I was debating whether or not to include this under the "Pros" or "Cons" and wanted to be fair. But any hotel that can turn a profit charging 17¢ and 35¢ of its rack rate perhaps needs to revisit its pricing policy.
Cons
1. There Really Is Very Little Loyalty – The article does say "some consumers" do come back and pay full price. Maybe in a relatively inexpensive retail environment but not when you're talking hundreds or even thousands of dollars for a hotel room or vacation. Why would someone ever pay you full price again? It defies logic.
People taking advantage of Deal Sites are looking for deep discounts and they shop the deal sites. As soon as your hotel doesn't have one they move on to one that does.
2. The Popularity of Deal Sites Feed a Relentless Bargain-Hunting Mentality Among Customers – This even applies to people who don't use Deal Sites. Need proof? Talk to your reservation agents. Ask what percentage of people call looking for "a deal" or maybe "a steal?" Consumers will always look for a good deal. It is incumbent on the hotel to give them a good value – not a steal.
Isn't this why hotels have a "Specials" page on their website? And you can advertise Specials and promote them in PR and online and build awareness for your brand while promoting value – not just a deeply discounted rate.
3. Deal Sites Can Ruin Your Reputation – According to a Boston College and Harvard University Study fans of daily deals are hard to please. They actually pull down the average YELP score by half a point. Imagine what they could do for your TripAdvisor scores. How would you like to go from a 4.5 to 4.0 in TripAdvisor?
Here's a good example of a TripAdvisor review where someone got a very good rate and then complained about it. At the same time they are telling anyone who reads this that even at a Groupon rate the property isn't worth it. OUCH!


Even if you limit using Deal Sites to "specific need periods" the results could be disastrous to your reputation and your bottom line.
So there you have it – two fairly weak reasons why a hotel might participate in Deal Sites and three pretty strong reasons why it should not.
Just for the record, Deal Sites are not necessarily here to stay. They will only be around as long as hoteliers are willing to give them inventory and are willing to get peanuts in return.
What do you think?
ARE YOU ON GOOGLE+ ?
Join us on Innfinite´s Google+ page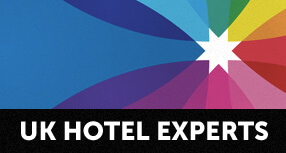 Hotel Deals
Great deals in just a click


Hoteldeals.co.uk, your one-stop-shop for the best UK short hotel breaks, spa breaks, budget UK hotel deals, UK hotel city breaks and special offers at a collection of UK Express hotels, UK Holiday Inn hotels and a collection of unique hotels across Scotland, England & Northern Ireland. MORE»

We are a portfolio of five Hotels, based exclusively in Scotland, proudly offering a rare blend of quality, service and price in a range of City and Country House locations across the country – in Edinburgh, Glasgow, Aberdeen and Perth..MORE»
Featured independent hotels of quality in Scotland
Balbirnie

Balbirnie House is a quite unique multi-award winning country house hotel which combines understated luxury with superb service and outstanding value.

Peat Inn

Winner of the AA Restaurant of the Year awards for 2010-11 at the recent AA Hospitality Awards, amongst the most prestigious national awards of their kind.

Knockinaam

A small luxury country house hotel in Dumfries and Galloway with a glittering array of awards – 3 AA red stars, 3 AA food rosettes – and 1 Michelin star.

Maryculter

A classic 4 star country house hotel, 6 miles outside Aberdeen on the bank of the river Dee and a short drive from Aberdeen International Airport.

Piersland

A stunning, beautifully restored, W illiam Leiper inspired 4 star 'country house hotel by the sea', in glorious gardens, grounds and sun facing terrace, in Troon.