Social Media: Damned If You Do. Damned If You Don?t - By Madigan Pratt
There they were, two articles one right on top of the other in the very same enewsletter, each espousing a polar opposite point-of-view on social media.
There they were, two articles one right on top of the other in the very same enewsletter, each espousing a polar opposite point-of-view on social media.
The first article, Hotels Don't See Social Media as a Priority, cites research conducted in five countries by the prestigious Ecole hôtelière de Lausanne (Switzerland) and RateTiger. The countries included France, Germany, Spain, UK and the USA.
What the research found was that hoteliers are not convinced that social media has an impact on bookings and are therefore delaying implementing strategies for the short term. Instead hotels are looking to increase direct bookings in an effort to increase margins and reduce dependence on the high commission Online Travel Agencies (OTAs).
To increase direct bookings hotels are relying more on traditional marketing techniques with a proven return on investment such as working closer with travel agents, creating relevant packages, search engine optimization (SEO) and search engine marketing (PPC, etc.)
The second article, Marketing is Dead, from the Harvard Business Review Blog Network claims that traditional marketing — including advertising, public relations, branding and corporate communications — is dead. The article goes on to claim that traditional marketing really isn't working anywhere.
The author feels a more community-oriented marketing approach which is more peer influence-based (oftentimes through social networks) offers much greater promise for creating sustained growth through building authentic customer relationships.
There you have it – extreme points of view on marketing. So which one is really dead? Social media or marketing?
We don't believe either one is dead. Marketing is a mix of disciplines that allows companies like independent hotels to direct limited resources to the greatest opportunities to increase profitable sales and achieve a sustainable competitive advantage.
Branding, advertising, public relations, corporate communications, websites, email and social media are nothing more than tools smart marketers use to develop the right mix to achieve their company's specific goals.
So, what do you think?
ARE YOU ON GOOGLE+ ?
Join us on Innfinite´s Google+ page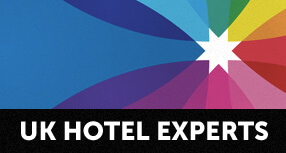 Hotel Deals
Great deals in just a click


Hoteldeals.co.uk, your one-stop-shop for the best UK short hotel breaks, spa breaks, budget UK hotel deals, UK hotel city breaks and special offers at a collection of UK Express hotels, UK Holiday Inn hotels and a collection of unique hotels across Scotland, England & Northern Ireland. MORE»

We are a portfolio of five Hotels, based exclusively in Scotland, proudly offering a rare blend of quality, service and price in a range of City and Country House locations across the country – in Edinburgh, Glasgow, Aberdeen and Perth..MORE»
Featured independent hotels of quality in Scotland
Balbirnie

Balbirnie House is a quite unique multi-award winning country house hotel which combines understated luxury with superb service and outstanding value.

Peat Inn

Winner of the AA Restaurant of the Year awards for 2010-11 at the recent AA Hospitality Awards, amongst the most prestigious national awards of their kind.

Knockinaam

A small luxury country house hotel in Dumfries and Galloway with a glittering array of awards – 3 AA red stars, 3 AA food rosettes – and 1 Michelin star.

Maryculter

A classic 4 star country house hotel, 6 miles outside Aberdeen on the bank of the river Dee and a short drive from Aberdeen International Airport.

Piersland

A stunning, beautifully restored, W illiam Leiper inspired 4 star 'country house hotel by the sea', in glorious gardens, grounds and sun facing terrace, in Troon.