The web's hot in Europe right now
According to the IAB Europe study from Mediascope Europe, 426.9 million Europeans go online every week with 37% accessing the Internet using more than one device. 64% of people access the web via a computer, 415.7 million people, and 21% use the Internet on their mobile phone (139.2m).
European Internet Users

Country

% Online Using A Computer

% Using A Mobile

Europe Average

64%

21%

Western Europe

79%

31%

Northern Europe

86%

36%

Southern Europe

59%

19%

Central & Eastern Europe

53%

14%

Source: IAB Europe/Mediascope, June 2012
Using the internet via a computer is most popular in Norway and Switzerland (89%) and users are most likely to be aged between 25-44 years old (44%). Mobile internet users are most likely to be 16-24 years old (30%) and using the internet via a mobile phone is most popular in the UK, Norway and Sweden where more than 4 in 10 access the internet via this device.
Key European findings revealed at IAB Europe's Interactive conference:
426.9m Europeans use the Internet (65%), spending 14.8 hours online each week

37% of Europeans access the Internet using more than one device

Traditional media activities are rapidly moving online with more than 9 in 10 European Internet users visiting news websites

Europeans are using the web and watching TV simultaneously to complement their viewing experience

The Internet has become an essential way for brands to engage with consumers with 4 in 10 European internet users agreeing that the way a brand communicates online is important

96% of European Internet users research online for purchases and 87% shop online
European's spend a total of 14.8 hours online each week. Those using a computer spend 13.3 hours, compared to 9.4 hours among those using mobile phones and 9.3 hours for those using tablets, and 6.8 hours via games console.
What stands out in this research is how much of this 'traditional' media is now being consumed online, says the report:
91% of internet users read news online (388.5m), with men more likely to be consumers of news online than women, while 35-54 year olds are the most likely to read news online

73% of internet users watch TV online (311.6m) - 16-24 year olds are the most likely to watch TV online - at 83% - closely followed by 35-44 year olds (81%)

67% of internet users listen to the radio online (286.0m) – this increases to 81% of 16-24s, and men are more likely than women to listen to the radio online
European Traditional Media Consumption Online (% of Internet Users, June 2012)

Age Group

Online Activity

Watch TV

Read Newspapers

Listen to Radio

16-24

83%

89%

81%

25-34

70

92

67

35-44

81

93

78

45-54

70

93

60

55+

67

90

57

Men

93

73

68

Women

89

74

66

Source: IAB Europe/Mediascope, June 2012
48% of Europeans say they use the internet while watching TV, and 16% of all time spent watching TV in Europe is done while using the internet. Europe's heaviest online/TV multi-taskers are the Norwegians at 70%, followed by 68% of TV watchers in France and 62% of those watching TV in the UK. 33% of all TV and online multi-taskers say the online activity they're doing is likely to be related to the TV program they're watching.
Alison Fennah, Vice President of Research and Marketing for IAB Europe comments, "... many Europeans are... using the web and watching TV simultaneously... a third of those are consuming complementary content... companies that... adapt to these changing consumption patterns will... succeed in the future."
The Internet has become an essential way for brands to communicate and engage with consumers:
51% say the internet helps them choose better products/services

47% are inclined to find out more about products they see advertised online

46% of internet users say they often visit the website of their favorite brands

41% of European internet users agree that the way a brand communicates online is important

30% of Internet users are more likely to buy a product of a brand they follow on a social networking site
96% of European Internet users research online for purchases, 87% shop online and 19% of all their shopping is done via the Internet. In a six month period Europeans spent €188 billion buying goods and services online, an average of €544 per European online shopper. Norwegian Internet shoppers averaged the highest spend online (€1,162) followed by Swiss (€919) and Danish (€894) online shoppers. UK Internet users devote the greatest share of total shopping spend to online (32.0%) followed by German (25.4%).
Fennah concludes, "... the internet is being used together with traditional media... consumers... are using multiple devices to enjoy a huge variety of media
ARE YOU ON GOOGLE+ ?
Join us on Innfinite´s Google+ page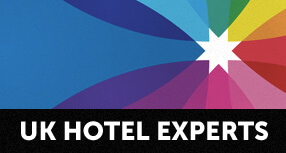 Hotel Deals
Great deals in just a click


Hoteldeals.co.uk, your one-stop-shop for the best UK short hotel breaks, spa breaks, budget UK hotel deals, UK hotel city breaks and special offers at a collection of UK Express hotels, UK Holiday Inn hotels and a collection of unique hotels across Scotland, England & Northern Ireland. MORE»

We are a portfolio of five Hotels, based exclusively in Scotland, proudly offering a rare blend of quality, service and price in a range of City and Country House locations across the country – in Edinburgh, Glasgow, Aberdeen and Perth..MORE»
Featured independent hotels of quality in Scotland
Balbirnie

Balbirnie House is a quite unique multi-award winning country house hotel which combines understated luxury with superb service and outstanding value.

Peat Inn

Winner of the AA Restaurant of the Year awards for 2010-11 at the recent AA Hospitality Awards, amongst the most prestigious national awards of their kind.

Knockinaam

A small luxury country house hotel in Dumfries and Galloway with a glittering array of awards – 3 AA red stars, 3 AA food rosettes – and 1 Michelin star.

Maryculter

A classic 4 star country house hotel, 6 miles outside Aberdeen on the bank of the river Dee and a short drive from Aberdeen International Airport.

Piersland

A stunning, beautifully restored, W illiam Leiper inspired 4 star 'country house hotel by the sea', in glorious gardens, grounds and sun facing terrace, in Troon.