Tune-Up Your Website for Peak SEO Performance | By Madigan Pratt
No one can guarantee your hotel will show up on the first page of a Google search for hotels in your destination, but that's the goal every hotel must strive for. Why? Because research shows that if your hotel doesn't appear on page 1 or 2, it is practically invisible. Few people look beyond the first two pages when doing a search.
A page 1 ranking can only be achieved with a concerted effort and an understanding of how search works today. A seismic shift in search occurred last year when Google introduced Panda, its new search algorithm. It made sweeping revisions to the way it rated and ranked websites.
Panda rewards sites that deliver original quality content written primarily for the end user and not the search engines. It rewards sites with higher rankings when people spend time, view multiple pages and rarely bounce (look at one page and then leave). It is an evolving search algorithm with updates announced on average every other day. For a site to get ranked near the top in popular keyword searches and stay there, it needs to continually factor in Panda's updates.
With these constant changes, how is a small luxury hotel able to keep up and be competitive online? Here are nine key initiatives that small luxury hoteliers can take to make sure your website is tuned up for peak SEO performance and deliver more than its fair share of visitors and potential guests.
1. Avoid Content or Link Farms – Content and link farms look to generate advertising revenue by attracting reader page views while not delivering the quality of content people (or Panda) are searching for.
A content farm has writers generating copious copy content while a link farm is a group of websites that hyperlink to each other and from spam directories. Both are designed specifically to fool search engines into ranking participating websites higher. Both are frowned upon by Google, which can punish participating sites by seriously downgrading their page rank.
There are SEO companies that continue to post client websites to content and link farms and dubious directories in an effort to drive up search results oftentimes unbeknownst to the hotel. Caveat emptor!
Penalizing sites for using content and link farms was the first thing Panda did when it was introduced. You may have read The New York Times article where Google socked it to J.C.Penney for using link schemes.
2. Remove Low Quality Pages from Your Site – Panda's main focus is to reduce the number of low quality or spam sites it serves up in searches.
Over time every site can develop low quality pages. These may be old landing pages or Specials that no longer link to the main navigation of your site. They can also be pages with duplicate content, ones with very little content at all and pages with high bounce rates.
These orphan pages, when found by the search bots, can lead to a lower ranking and therefore need to be removed. Pages with little content should be expanded or merged with other pages containing related information.
3.Keep Your Content Fresh – You need to actively maintain your website, adding and refreshing copy on a regular basis. The search bots know when you have updated material and rank actively managed sites higher. There are a lot of dead sites on the Internet. Don't let Google think yours is one of them.
Make sure your rates and specials are up-to-date. Add information about upcoming events and interesting things to do in your destination. Update your gallery. Keep an active blog. It's an excellent way to keep content fresh.
The tagline of a Boston seafood restaurant applies to website content, "If it isn't fresh, it isn't legal."
4. Make Your Site Easy to Navigate – When your site is intuitive and easy to navigate, visitors will be able to find the information they are searching for, access more information (pages) and spend more time reading and learning about your hotel. These are key markers Panda uses to rank a site. They also increase the possibility of converting a looker into a booker, which is the ultimate goal.
When people can't find what they are searching for or get lost within a site due to poor navigation, they leave. There shouldn't be any "dead ends" on your site where a visitor has to hit the back button to escape or a bot stops crawling. Search bots see when navigation leads to a dead end and can downgrade a site's ranking as a result.
Once we analyzed a site where the home page was completely Flash and there was no way for search bots to crawl the site. The only page indexed was the home page and ranking suffered.
5. Content Should be Likeable and Sharable – Content has always been king. In the past, unique and interesting content was sufficient. That's no longer the case. Today content needs to be both likeable and sharable.
Google is now factoring into consideration how often your site or pages on your site are shared with others on the various social networks like Facebook, Google+ and tumblr. Make it easy for people to share specials, photos, news and videos.
For more tips, check out these Social SEO Best Practices.
6. Drive Visits Through Social Media – You also have to "share" and be social on social media to drive traffic. A few hotels have been successful at using promotions and advertising to drive traffic to their Facebook page. You'll see an increasing number of hotels doing it.
This is because Google is measuring the social interactions hotels generate on Facebook, Twitter and other social media. It is also factoring in the amount of traffic a site receives as a result. Maintaining an interesting blog with articles and information people like to share is a great way to extend your message and build additional links to your site.
You can't afford to be lonely anymore.
7. Increase Site Speed and Browse Rate – In the Wild West, you had to be quick on the draw in order to survive. In today's competitive hospitality business, you have to be quick on the download. The faster your website – both site speed and server speed, the better it will rank.
Optimizing site speed on a slow server won't do much good. Instead, try these few tips.
Hyper cache web pages to local folders to increase site speed.
Remove unused lines of code
Minimize use of cascading style sheets (CSS) and JavaScript.
Optimize images. You'd be surprised how many small luxury hotels have 2-4 MB photos on their site. This slows load speed to a crawl. People don't like it when a page takes 30 seconds to load. Panda doesn't like it either and will dock you for doing it.
Break excessively long content into two pages. The pages will load faster and you have a chance to increase the number of page views.
Avoid long running videos and music. In an SEO audit for a hotel website, the home page took over 15 seconds to officially load because of music. It should only take milliseconds.
Check out the Google and Firefox webmaster tools to understand how fast your site loads.
A speedy site not only pleases Google Panda, but your visitors as well. This is particularly true if they are in an area with a weak Wi-Fi signal.
8. Update Your Site to HTML5 – The world's most popular sites have migrated to HTML5, which is the new standard for web design.
The primary aim of HTML5 is to support multimedia and keep web pages easily readable for humans and computers. It was designed with today's increasingly interactive websites in mind. Now it is possible to embed video and audio, high quality drawings, charts, animation and many other rich content without using plug-ins or third-party programs.
The code used in HTML5 is cleaner, which makes it easier for a Google bot to crawl and index.
9. Know Where You Are – Before you begin your quest to be ranked on page 1 of key search terms for hotels in your destination or region, you need to know where you are today. An inexpensive and independent SEO mini-audit can give you a quick read on how you are doing overall and how you compare to a couple of key competitors.
If everything checks out and your SEO looks good, you've invested very little to receive a great deal of peace of mind. Something that is increasingly rare in hospitality today.
If your site has serious SEO issues or competitive hotels are performing better, corrective actions should be taken immediately. Underperforming websites result in underperforming occupancy and less revenue for the hotel.
Panda is out to penalize low quality sites. Once penalized, it is very difficult to win back their trust (and ranking).
Knowing where you are is critical to developing a plan to get you to where you eventually need to be.
Search engine optimization has changed dramatically in the past year. It has gotten much more sophisticated and complex. But, a whole new set of tools have been developed to help hotels stay abreast of the changing environment.
Hotels that take advantage of these new tools will stay ahead of those who do not. Most importantly, these hotels are the only ones with a chance to achieve the ultimate goal of having their hotel appear on page 1 of a Google search for hotels in their destination.
Go follow Nike's command and "Just do it!"
ARE YOU ON GOOGLE+ ?
Join us on Innfinite´s Google+ page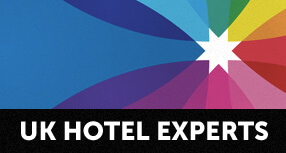 Hotel Deals
Great deals in just a click


Hoteldeals.co.uk, your one-stop-shop for the best UK short hotel breaks, spa breaks, budget UK hotel deals, UK hotel city breaks and special offers at a collection of UK Express hotels, UK Holiday Inn hotels and a collection of unique hotels across Scotland, England & Northern Ireland. MORE»

We are a portfolio of five Hotels, based exclusively in Scotland, proudly offering a rare blend of quality, service and price in a range of City and Country House locations across the country – in Edinburgh, Glasgow, Aberdeen and Perth..MORE»
Featured independent hotels of quality in Scotland
Balbirnie

Balbirnie House is a quite unique multi-award winning country house hotel which combines understated luxury with superb service and outstanding value.

Peat Inn

Winner of the AA Restaurant of the Year awards for 2010-11 at the recent AA Hospitality Awards, amongst the most prestigious national awards of their kind.

Knockinaam

A small luxury country house hotel in Dumfries and Galloway with a glittering array of awards – 3 AA red stars, 3 AA food rosettes – and 1 Michelin star.

Maryculter

A classic 4 star country house hotel, 6 miles outside Aberdeen on the bank of the river Dee and a short drive from Aberdeen International Airport.

Piersland

A stunning, beautifully restored, W illiam Leiper inspired 4 star 'country house hotel by the sea', in glorious gardens, grounds and sun facing terrace, in Troon.