UK hotels should avoid flash selling sites - that's final!
Public health warning number 1 – EMBRACE THE CONCEPT OF RISK/REWARD
Meaning - flash sales are extremly high risk, very low reward. Throwing the baby (the loyal customer) away with the bathwater( the non-loyal Groupon customer) comes firmly to mind. Chasing low/the wrong demographics business at very little return is high risk in Innfinite's language -what about yours?
A recent survey by Travelclick conducted amongst almost 400 chain and independent properties in mainland Europe and the UK, revealed five main reasons why hotels were unhappy with the group sale experience. These were:

- Did not make enough revenue per room

- Gave up too much revenue to the sale site

- Deal wasn't as successful as expected

- Failed to see any repeat business, and

- Did not attract the right calibre of customer
Anecdotal evidence has indicated that hotels are also concerned that a large percentage of the customers who book had actually stayed with them before and cannot be 'up-sold', which discourages incremental business.
Then today I get this - http://www.eyefortravel.com/distribution-strategies/making-apt-use-flash-sales-both-distribution-and-marketing-initiatives. At best this article is a veiled promotional piece for flash selling websites, at worst its total economic nonsense. Hoteliers all over the world have been snared and entrapped by these flash selling sites and their slick, and often detestable and bordering on illegitimate, sales tactics. Remember Booking.com started with a handful of hotels, then just about all the world's hotels played follow my leader, and look where we are now. Lets hope that follow like sheep phenomenon doesn't infiltrate the flash selling recruitment market – there are even views out there that some of them want to become mainstream OTA's – perish the thought, that would be a potentially fatal 'second phase' OTA development
The fact is gthat the current hotel distribution market is a mess, corrupted also by over-technologisation that neither hoteliers nor travel shoppers want, and crazy beliefs that technology can de-humanise not only the sales process but thye hotel experioenmce itself, in turn turning it into a process. Technology will never make up for, or accurately predict human behavior, often what we say and what we do are two entirely different things.
Hoteliers have cottoned onto the flash selling fad too. They dump flash sales customers into the worst rooms, they use artificial 'rack rates' to demonstrate arguable discounts – what is rack rate anyway. To the customer this kind of manipulation represents all the worst attributes of the hospitality experience. The flash selling site also demands the lowest deal available anywhere – where is rate parity here, it's a joke. If you have a lower rate/deal on your own website they make you take it down. The fact is they should be competing with other channels for your business, not being given a lowest rate monopoly.
Here are three economic truths which should confine flash selling activity to the wastepaper bin
First commoditization – the deal is a product of the flash sales company, not the hotel. The hotel has to conform to a list of criteria, mainly about price, not product. The higher up te quality chain, the worse this can actually become, as we see 5 star hotels selling cheap tacky deal that do their peers absolutely no good at all. This driving down of quality perception, standards and price in one fell swoop is economic madness. The article http://www.eyefortravel.com/distribution-strategies/making-apt-use-flash-sales-both-distribution-and-marketing-initiatives tells hotels they need to understand better the 'process, viz
"But a specialist like LivingSocial believes hotels need to understand what they want to achieve and need to work with the social buying platform to create deals that offer guests the best of the property, fulfill the hotels goals from running the promotion and recognising the costs and revenue requirements of the social buying company."
What abject nonsense. The hotel is being ripped off, self inflicted in many case yes – but it is under no obligation, nor should it even care about, understanding the deals company better.
Secondly, opportunity cost. Whatever the top rate is, call it rack, best available, high season or whatever, the hotel is fundamentally offering a huge discount on its publicly available rates. Comments such as (this is for a well known 4 star hotel )– BB per couple for £54, save £138 = 72% - Ok lets take that example to illustrate the point – that hotel is prepared to pay £138 to get £192 – then it has to
Pay the VAT – 20% = £11
Pay the deal company – lets say 25% = £14
So £138 in fact gets it £167.
A discount is a cost of sale, if it isn't then what is it? IS THAT HOTEL SERIOUSLHY SAYINGIT IS PREPARED TO SPEND £138 to get £167?? And get all the drawbacks mentioned above and below thrown in!
If that same hotel did an on line ad campaign, or posted a rate of £54 on its website, it would be overwhelmed with business in 5 minutes. OK this is probably overkill to prove the point, but at least the 25% to the deals company would be saved. What the flash sale activity actually is, is controlled disaster, a slow death, at least the ad or web activity would certainly produce and urgent change in strategy!!!
Third, and possibly most potent – receivables management./extortionate loan finance I just can't put it any better than this piece by Rocky Agraval about Groupon-- -
"Well, for starters, it's not a coupon company nor a marketing company. At its core, Groupon's U.S. business is a receivables factoring business, as I wrote last year. They give loans to small businesses at a very steep rate (the price of the discount plus Groupon's commission). They get the money to fund these loans from credit card companies such as Chase Paymentech. Groupon is essentially a sub-prime lender that does zero risk assessment. And as word continues to spread about what a terrible deal running a Groupon is for many categories of businesses, the ones that will choose to run Groupons are the ones that are the most desperate. For U.S. based businesses, the only time I can definitely recommend running a Groupon is if it is otherwise going to go out of business."
The best analogy I can think of in the UK is pay day loans, companies such as Wonga.com and Quick Quid are charging up to 4734% APR pn pay day loans and desperate customers are daft enough to buy them, rather than think of other ways of how to deal with their predicament. 4734% APR – is that extortion, or what. It should be outlawed.
Epilogue
I read this from a Vizergy piece recently
Take control of your hotel's on line presence< In today's evolving world of hospitality digital marketing, it's important that all properties take inventory of their online presence, assess strengths and weaknesses across multiple channels and effectively take action to enhance visibility and bookings with integrated marketing.
My interpretation – don't let a flash sales company destroy your on line presence.
Let's get more hotels talking about all this and their experiences and lessons.- virtually all the industry talk on this is tarred with the same brush – its all about the flash sales company, and usually fairly positive too.
A very well known Scottish hotel closed its door recently, and while the reasons may be many, co-incidentally it did undertake a lot of flash sales activity and when the bills came in it had run out of cash.
Public health warning number 2 – GROUPON DOESN'T PAY YOUR BILLS!!
ARE YOU ON GOOGLE+ ?
Join us on Innfinite´s Google+ page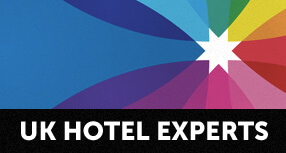 Hotel Deals
Great deals in just a click


Hoteldeals.co.uk, your one-stop-shop for the best UK short hotel breaks, spa breaks, budget UK hotel deals, UK hotel city breaks and special offers at a collection of UK Express hotels, UK Holiday Inn hotels and a collection of unique hotels across Scotland, England & Northern Ireland. MORE»

We are a portfolio of five Hotels, based exclusively in Scotland, proudly offering a rare blend of quality, service and price in a range of City and Country House locations across the country – in Edinburgh, Glasgow, Aberdeen and Perth..MORE»
Featured independent hotels of quality in Scotland
Balbirnie

Balbirnie House is a quite unique multi-award winning country house hotel which combines understated luxury with superb service and outstanding value.

Peat Inn

Winner of the AA Restaurant of the Year awards for 2010-11 at the recent AA Hospitality Awards, amongst the most prestigious national awards of their kind.

Knockinaam

A small luxury country house hotel in Dumfries and Galloway with a glittering array of awards – 3 AA red stars, 3 AA food rosettes – and 1 Michelin star.

Maryculter

A classic 4 star country house hotel, 6 miles outside Aberdeen on the bank of the river Dee and a short drive from Aberdeen International Airport.

Piersland

A stunning, beautifully restored, W illiam Leiper inspired 4 star 'country house hotel by the sea', in glorious gardens, grounds and sun facing terrace, in Troon.