Warning to Hotels: Don't Post Fake Reviews
Review sites like Google, Yelp, Citysearch and even TripAdvisor have taken a huge hit recently in the media for publishing fake reviews. So have a number of so-called reputation management companies for helping foster the practice.
Just yesterday the New York Times reported that the State's Attorney General, Eric T. Schneiderman had reached an agreement with 19 companies to pay a total of $350,000 in fines and cease their misleading practices of writing fake reviews.
According to the A.G., "What we found is even worse than old fashioned false advertising. When you put up a billboard, you can tell it is a paid advertisement – but on Yelp or Citysearch you assume you're reading authentic consumer opinions making this practice even more deceiving." We couldn't agree more.
Review sites are fighting back. TripAdvisor has a zero tolerance for fake reviews and will remove those they believe are fake, penalize a hotel's ranking and even post a message on a property's listing alerting readers that fake reviews have been found. And Yelp recently sued a California law firm for posting fake reviews.
Positive online reviews can have a tremendous impact on a business.
A number of research studies have shown that increasing star ratings can increase occupancy for hotels and revenue for restaurants.
Others have shown that online reviews are the #2 most trusted source of information behind recommendations from friends and relatives.
It is little wonder unscrupulous individuals attempt to game the system by posting fake reviews.
Our recommendation to client's and all hotels for that matter, is to:
Get great TripAdvisor ratings the old-fashioned way – earn them.
Use reviews to improve your guest experience and the Management Response option to let people know you are listening to make continuous improvements.
Have a custom tailored TripAdvisor strategy designed to get more and higher quality reviews to increase your ranking
ARE YOU ON GOOGLE+ ?
Join us on Innfinite´s Google+ page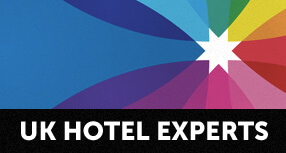 Hotel Deals
Great deals in just a click


Hoteldeals.co.uk, your one-stop-shop for the best UK short hotel breaks, spa breaks, budget UK hotel deals, UK hotel city breaks and special offers at a collection of UK Express hotels, UK Holiday Inn hotels and a collection of unique hotels across Scotland, England & Northern Ireland. MORE»

We are a portfolio of five Hotels, based exclusively in Scotland, proudly offering a rare blend of quality, service and price in a range of City and Country House locations across the country – in Edinburgh, Glasgow, Aberdeen and Perth..MORE»
Featured independent hotels of quality in Scotland
Balbirnie

Balbirnie House is a quite unique multi-award winning country house hotel which combines understated luxury with superb service and outstanding value.

Peat Inn

Winner of the AA Restaurant of the Year awards for 2010-11 at the recent AA Hospitality Awards, amongst the most prestigious national awards of their kind.

Knockinaam

A small luxury country house hotel in Dumfries and Galloway with a glittering array of awards – 3 AA red stars, 3 AA food rosettes – and 1 Michelin star.

Maryculter

A classic 4 star country house hotel, 6 miles outside Aberdeen on the bank of the river Dee and a short drive from Aberdeen International Airport.

Piersland

A stunning, beautifully restored, W illiam Leiper inspired 4 star 'country house hotel by the sea', in glorious gardens, grounds and sun facing terrace, in Troon.