What in Hell is the U.S.P.? And Why Do You Need One?
So what exactly is a U.S.P.? In reality it is a way to get leverage for your hotel over competition and to let targeted consumers know you represent the superior choice. A strong and clearly articulated U.S.P. well executed throughout all aspects of marketing and communications will lead to above average occupancy and revenue.
"Today, the U.S.P. is perhaps the most misused series of letters in advertising. It has been picked up by hundreds of agencies and has spread across the country. It is now applied, loosely and without understanding, to slogans, slick phrases, strange pictures, mere headlines – in fact, to almost anything which some writers consider slightly different from what they find in competing advertisements."
I didn't write this. Rosser Reeves, Chairman of the Board of Ted Bates wrote it over 50 years ago in his seminal book, Reality in Advertising. The intervening years, and decades for that matter, haven't added much clarity to the situation as the U.S.P continues to be one of the most misunderstood terms in marketing today.
So what exactly is a U.S.P.? In reality it is a way to get leverage for your hotel over competition and to let targeted consumers know you represent the superior choice. A strong and clearly articulated U.S.P. well executed throughout all aspects of marketing and communications will lead to above average occupancy and revenue.
The U.S.P. or Unique Selling Proposition is best defined by describing each of its three parts starting from the back:
Proposition – Each brand must make a proposition to the consumer. In essence that proposition must say, "Buy this product and get this benefit."
Selling – The proposition being made or the benefit being offered must be one your target market wants to buy.
Unique – The proposition must be one the competition either cannot, or does not, offer. It must be unique – either a uniqueness of your resort or through a claim not otherwise made.
While on the surface it may appear to be easy, developing a marketing concept that is truly unique, actually sells your hotel and is benefit oriented is no simple matter. That's especially true in today's hyper competitive hotel industry.
But it is possible to develop a U.S.P. – something that goes beyond mere puffery, something that is true and can be supported by facts and something that actually sets your hotel not only apart from, but above competition. Here are examples of three of our hotels, each with a strong U.S.P.
The Reefs, Bermuda – The Reefs is one of numerous luxury hotels in Bermuda. Over the years it has consistently delivered a superior product and excellent service. Consequently it has received accolades from all the top travel media including Conde Nast Traveler and Travel+Leisure. Oftentimes it is the only Bermuda hotel to make the list of their annual reader surveys. As such, The Reefs can legitimately claim to be, "Widely recognized as Bermuda's best hotel."
Nisbet Plantation Beach Club, Nevis – Why do people travel to the Caribbean? There are a myriad of reasons including to stay at one of the regions historic plantation inns. Much more important on the list of what people want in a Caribbean vacation is to sit on the beach. While every other plantation inn was built in the mountains where it was cooler before air conditioning, Nisbet Plantation is, "The Caribbean's only historic plantation inn on the beach."
Bolongo Bay Beach Resort, St. Thomas – Another benefit highly sought after in a beach vacation is to just have fun. That is something Bolongo Bay has specialized in for years. Family run, this resort offers free non-motorized water sports, a weekly snorkel booze hunt and Iggies, one of the top beach bars in the Caribbean. So Bolongo is, "The Caribbean's most entertaining beach resort."
Each of these resorts possess something few of their competitors have – a strong and motivating U.S.P. If a traveler wants to stay in Bermuda's best hotel, there is only one choice. If they would like to stay in a historic plantation inn, but also want to be on the beach, there is only one choice. If they just want to have fun there are many hotels to choose from, but one that will always be at the top of the list.
It's not easy developing a strong U.S.P. There's much more to consider than meets the eye and oftentimes it takes someone from the outside, someone with a fresh perspective on your hotel and competition to identify what is truly unique about your hotel. But the effort can be worth it for once you have a U.S.P. you will have a sustainable competitive advantage.
There's a lot more to advertising these days than just having a U.S.P. But the U.S.P. is still the foundation upon which all your marketing messaging should be built. And without that strong foundation all the benefits you are trying to communicate about your hotel will be lost in a tidal wave of advertising clutter. You'll be invisible.
So, what is your U.S.P.? Does it really fit all three criteria outlined above? Do you offer a real benefit? Is it something people are looking for and hopefully willing to pay a premium for? Is it really unique, or is it just puffery? Your answer does have a significant impact on your bottom line.
What do you think? Madigan Pratt
ARE YOU ON GOOGLE+ ?
Join us on Innfinite´s Google+ page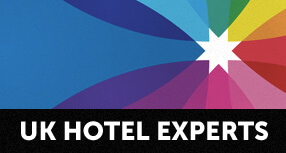 Hotel Deals
Great deals in just a click


Hoteldeals.co.uk, your one-stop-shop for the best UK short hotel breaks, spa breaks, budget UK hotel deals, UK hotel city breaks and special offers at a collection of UK Express hotels, UK Holiday Inn hotels and a collection of unique hotels across Scotland, England & Northern Ireland. MORE»

We are a portfolio of five Hotels, based exclusively in Scotland, proudly offering a rare blend of quality, service and price in a range of City and Country House locations across the country – in Edinburgh, Glasgow, Aberdeen and Perth..MORE»
Featured independent hotels of quality in Scotland
Balbirnie

Balbirnie House is a quite unique multi-award winning country house hotel which combines understated luxury with superb service and outstanding value.

Peat Inn

Winner of the AA Restaurant of the Year awards for 2010-11 at the recent AA Hospitality Awards, amongst the most prestigious national awards of their kind.

Knockinaam

A small luxury country house hotel in Dumfries and Galloway with a glittering array of awards – 3 AA red stars, 3 AA food rosettes – and 1 Michelin star.

Maryculter

A classic 4 star country house hotel, 6 miles outside Aberdeen on the bank of the river Dee and a short drive from Aberdeen International Airport.

Piersland

A stunning, beautifully restored, W illiam Leiper inspired 4 star 'country house hotel by the sea', in glorious gardens, grounds and sun facing terrace, in Troon.